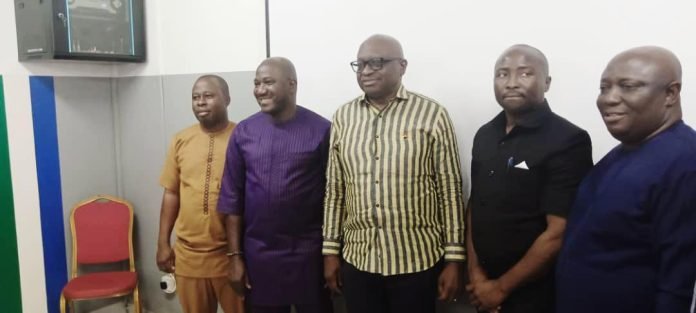 By: Hafsatu Z Bangura
The Minister of Transport and Aviation Hon. Kabineh Kallon has in a press briefing clarified claims on the termination contract of workers at the Sierra Leone Airport Authority (SLAA).
In a press briefing at the Ministry of information and Communication Conference hall Youyi Building in Freetown, the Minister assured pressmen and members of the public that no staff will lose their job rather he said the termination of these contracts does not in any way imply such noting that a new company has taken over and as such termination of contracts are required.
He stated that unless a staff does not want to work but no staff he said will lose their job more importantly he noted that these staff will be eligible for end of service benefit because these staff would be paid their end of service benefits and confirmed that Summa Company will employ them again.
He continued that arrangements have been made with the Turkish Company for these workers to be employed and that they would be transferred to the company with all their benefits to work in line with the company's terms and conditions, noting that these staffs would be working for a period of One year at the company.
He further stated that these staff would have to prove themselves professionally working with a new public private company as they would now be working under the company's control without government business as usual.
He concluded that all components under Sierra Leone Airport Authority would now be under the new company's operation.
The General Manager for the Sierra Leone Airport Authority Mr Jack Massaquoi through a series of pictorial slides explained about the newly built Airport and its facilities.
He spoke of the newly refurbished runaway that would accommodate the largest Aircraft and it's about 3km long, a new taxi way, a new carousel for baggage that is three times bigger than the previous carousel at the former, a foot bridge, a VIP lounge, a foyer, a diamond shaped control tower, commercial VIP lounge, Presidential Terminal and more.
He said the company Summa built the Airport as a 75% agreement was reached for it to be fully operated under Summa Group but carried the name Freetown International Airport (FIA).
The operation he said is split into two, with the Summa group and Air Navigational Authority to ensure maximum safety for passengers.
Dr Tiffa Bayoh Director General Civil Aviation and Chairman of the transition committee said in 2021 the President turned the sod for the newly built Airport and an agreement was reached between the government of Sierra Leone and Summa group and that the project is worth $270 Million and further noted that the new Airport will generate job facilities for many Sierra Leoneans.
He concluded that Summa group will operate as the official company for the Airport and will do so for a period of 25 years and disclosed that the company plans on constructing a five star hotel and a state of the Art conference Center.