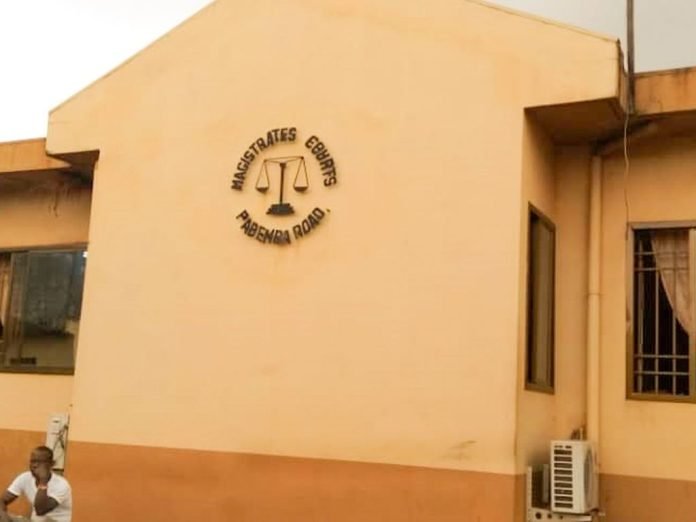 By: Audrey Raymonda John
Thirty-eight year old Alhaji Idrissa Bai Bangura a Labourer made another appearance before Magistrate Santigie Bangura of Pademba road court No.3 in Freetown on one count charge to wit Larceny contrary to section 2 of the Larceny Act 1916.
According to the particulars of offence on Saturday 25th February 2023 at #17 Lewis Street off Dundas Street the western area in Freetown Stole one hundred kilo Aluminium scrap valued two thousand five hundred Leones (2,500) one hundred kilo scrap irons valued four hundred Leones (400) and fifty kilo brass valued two thousand and sixty Leones (2,600) all to the total value of five thousand five hundred Leones (5,500) property of Osman Turay.
The charges were read and explained to the accused person and he pleaded not guilty.
Counsel representing the accused person W. Gaber applied for bail for and on behalf of the accused person that he is a Sierra Leonean resident within this jurisdiction that he has reliable sureties who are willing and ready to go into recognizance on his behalf nor will he interfere with prosecution witness or witnesses.
He made his application pursuant to section 79 3 of the Criminal procedure Act No.32 of 1965.
Meanwhile, Magistrate Bangura granted the accused person bail in the sum of ten thousand Leones with two sureties in like sum sureties to be resident within this jurisdiction sureties to produce valid identity card depicting his or her address in Freetown bail to be approved by the Deputy assistant Registrar.
The matter is adjourned to the 30th March 2023 for further hearing chief inspector Francis Macauley prosecuting the matter.