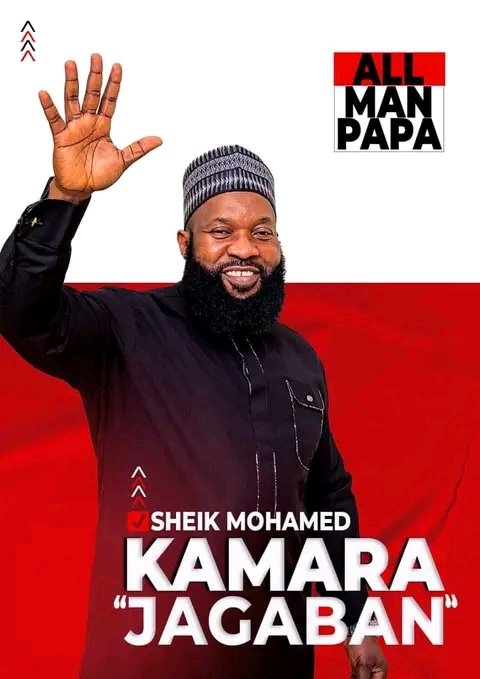 COMMENTARY
By: Mohamed M. Sesay (Lucky)
In every political season in Sierra Leone, there must be a deceptive political resurgence from one despicable political shenanigans like in the person of the Sheilk Mohamed Kamara dubbed as the fake Jagaban of Sierra Leone.
The All People's Congress Party's fake Jagaban is the new 21st century political shenanigan due to his political gimmicks and appeal to pity to secure a political base.
As a claimant, Sierra Leone's fake Jagaban has been braggadocios and vociferous that he transmogrified one hundred United States Dollars into a Fifty Million United States Dollars. Wow! He must be one of those unrealistic motivational speakers.
He is even gallivanting around bragging that his net worth is fifty million dollars, having a multi-million dollars investment in America, having forty houses in the United States of America, having thirty acres of land in the United States of America, all from just one hundred dollars he invested. This is commendable indeed for our Sierra Leonean brother to have achieved such a grandiloquent achievement if only it is not another political deception. Why all of those investments he claims in America, none is not visible in Sierra Leone to provide jobs for compatriots?
Another one million dollar question Sierra Leoneans are asking are; where was this fake APC Jagaban with all his multi-faceted million dollar investments? With all his riches, why is it that there is no pointer of his single investment in Sierra Leone that could give jobs to sierra Leoneans? The unearthing truth is that, the trick of this fake APC Jagaban is not unconnected to the political gimmicks of one time Presidential Aspirant for the Alliance Democratic Party (ADP) Mohamed Kamaraimba Mansaray . This was the same political deception and snobbishness Mohamed Kamaraimba Mansaray brought during the 2018 political period. The former Presidential aspirant for the ADP was unrealistically raucous claiming that he had many houses and investments in the United States, worth millions of dollars which all were later proved futile.
Unlike the real Nigerian Jagaban who has massive investments in Nigeria, and employed millions of Nigerians, the fake Jagaban of Sierra Leone claimed to have investment in American and not his country of birth. None of his Sierra Leonean compatriots are directly or indirectly benefiting from his white elephant investments he trumpets.
It is reliably coming to the limelight that the emergence of this fake APC Jagaban meandering all over the place, is another element of the All People's Congress Party's old-fashioned 99 tactics.
This fake Jagaban might be the Guinea pig whom the APC is using to clandestinely lavish stolen monies embezzled during their eleven years state racketeering enterprise. Ernest Bai Koroma is very clever in his surreptitious behavior who might have hired this Fake Jagaban, and redirected all of the stolen monies to him in order to champion their election campaign strategy in terms of financing.
Another sickening aspect of this fake APC Jagaban conundrum is the pitiful gullibility and lack of foresightedness by some Sierra Leoneans to figure out that this APC Jagaban is nothing other than a celebrated political deception. This should be a time for consciousness especially when the June 24th election is momentously approaching. Citizens should have this clear picture that the movement of Jagaban is nothing but a political gimmick embedded in their superannuated 99 tactics.
If Jagaban was actually serious as he claimed to alleviate the sufferings of Sierra Leoneans, he would have long since established investment opportunities for Sierra Leoneans in the country and not in foreign land. It is sad and shameful to see a claimant in the person of Sheilk Mohamed Kamara dubbed as fake Jagaban, coming at this eleventh hour to election, and making still born promises to citizens just to fulfil his political aggrandizement.
Compatriot citizens, this is a crucial moment for a crucial decision for the betterment of our children. The country under the leadership of President Bio is making a speedy progress in terms of development. He is focused undoing the reputational damage done by the APC to the country nationally and internationally. The country is vastly dominated with uninterrupted electricity supply, the Free Quality Education is colossally flourishing, and human right and women's empowerment, are unprecedentedly booming. Thus, let the political gimmicks from fake Jagaban and co. degenerate the speedy progress the country is making. It is high time Sierra Leone aimed for visionary leaders with 21st century developmental agenda, other than blinkered Politicians who intend to take the country back to 1961 political doldrums.