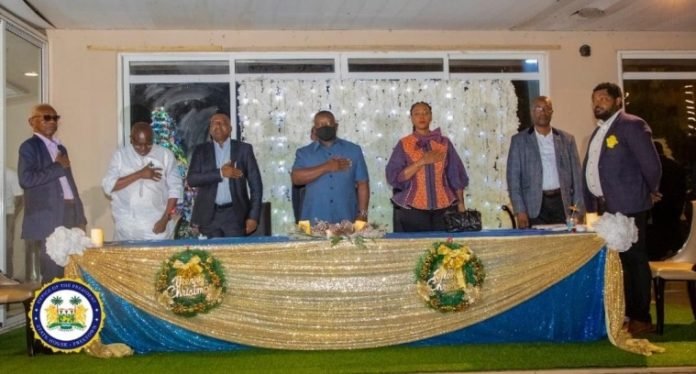 By: Hafsatu Z Bangura
Ahead of the multi-tiered elections next year, the president of the Republic of Sierra Leone Brigadier (Rtd) Julius Maada Bio has urged journalists to act professionally.
On Wednesday, December 7, 2022, at the Country Lodge Hotel in Freetown, Julius Maada Bio addressed more than 180 journalists from all around the nation.
"In every democratic State elections are not merely about voting, election outcomes are probably influenced by voter information" President Bio said.
The nation will hold elections on June 24, 2023, according to President Julius Maada Bio, the role of journalists will be crucial.
He emphasized that journalists should confirm information before publishing it and that they shouldn't disseminate information that could endanger the nation's peace and security. He also urged everyone to practice good journalism.
According to President Bio, he has permitted journalists to conduct their trade without being under danger.
He claimed that the media cocktail is a chance for him to update the media on his performance since being chosen as the nation's President in 2018.
According to Bio, Sierra Leone passed the Minimum Challenge Cooperation (MCC) scorecard for four years in a row just last month. This had never happened prior to 2018. He noted that, among other things, Sierra Leone has now successfully passed the Corruption Control Indicator for five consecutive years.
The Presidential Media Cocktail, according to the minister of information and communications, gives everyone the chance to come together to celebrate the advancements made in the information sector, advancements that support open and accountable government and broaden the horizons of freedom.
"I am here to report that Journalism has indeed been a critical tool in the transformative development undertakings of Your Excellency's administration", he noted.
According to Mohamed Rahman Swaray, President Bio has repealed the criminal libel statute and repealed the harsh Seditious part of the Public Order Act, which has outlawed free speech for 55 years.
"Your excellency, you have championed press freedom, that is not necessarily me speaking; but it is what the Sierra Leone Association of Journalists (SLAJ) is saying", said information minister.
He concluded that on a good news the government is not about to rest on its laurels.