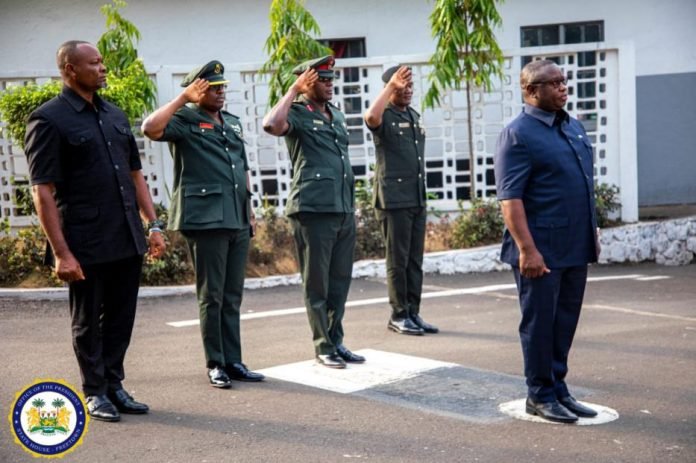 By: Mohamed Jalloh
The president of the republic of Sierra Leone Julius Maada Bio has on the 13th March 2023 called on Common Wealth Nations to invest in improving the lives and futures of young people through the galvanization of concreate actions.
He made the statement during the celebration of the commonwealth day on Monday 13th March 2023 at state house Tower hill in Freetown.
President Julius Maada Bio pointed out that Sierra Leone joined over 2.4 billion citizens of the beautifully diverse Commonwealth to reflect on shared history and celebrate shared values and principles that have kept the body connected and strengthened through the challenges of time.
The president said even as individual nations still grapple with the crippling socio-economic effects of COVID-19, the Russia-Ukraine conflict, climate change, and other global structural imbalances, his government continues to work together towards meeting the sustainable development goals and the collective vision of the Commonwealth.
In relation to this year's theme, "Forging a sustainable and peaceful common future" the president calls on the Commonwealth nations, to deepen cooperation not only on solving shared challenges but also in supporting individual nations to build and promote just, peaceful, and progressive societies.
Additionally, in this Commonwealth Year of Youth, he said nations must commit to galvanizing concrete actions across the Commonwealth to invest in improving the lives and futures of young people.
"We also celebrate Commonwealth Day this year by raising the peace flag in order to demonstrate our collective solidarity and commitment to peace as a central tenet of the Commonwealth Charter that we signed 10 years ago. Let me close by commending us all, especially my colleague Commonwealth Heads of State and Government, for safeguarding the Commonwealth vision which offers hope and inspires us to find ways of protecting our planet and people together" he ended.